Museum galleries
The Museum's eleven permanent galleries invite you to enter the story of modern medicine – on a journey from the grimy, disease-ridden slums of Victorian Leeds to the cutting edge of tomorrow's medical technology. On the way you will meet some remarkable people and discover the part that everyone has to play in working together for a healthy future. With pop-up talks, activities and surprises every day, no two visits to the Thackray are ever really the same but here are a few highlights to look out for.
Thackray will see you now
A showreel of the museum's permanent galleries, filmed as we re-opened to the public in 2021 after an extensive refurbishment.
Disease Street
The sights, sounds – and smells – of the slums of Victorian Leeds. Meet the inhabitants of a recreated street where the struggle for public health is beginning to take root.
Click and drag the image to have a sneaky peak.
Victorian Operating Theatre and Mortuary
A terrible accident occurs at the end of Disease Street and the drama unfolds in our newly reconstructed Victorian Operating Theatre opposite.
Find out more about surgery in the pre-anaesthetic era, and visit our mortuary to find out how we have learned from the dead to preserve life in the living.
Content note:
Scenes of peril and threat involving a child, historic film of surgery and images of dead bodies.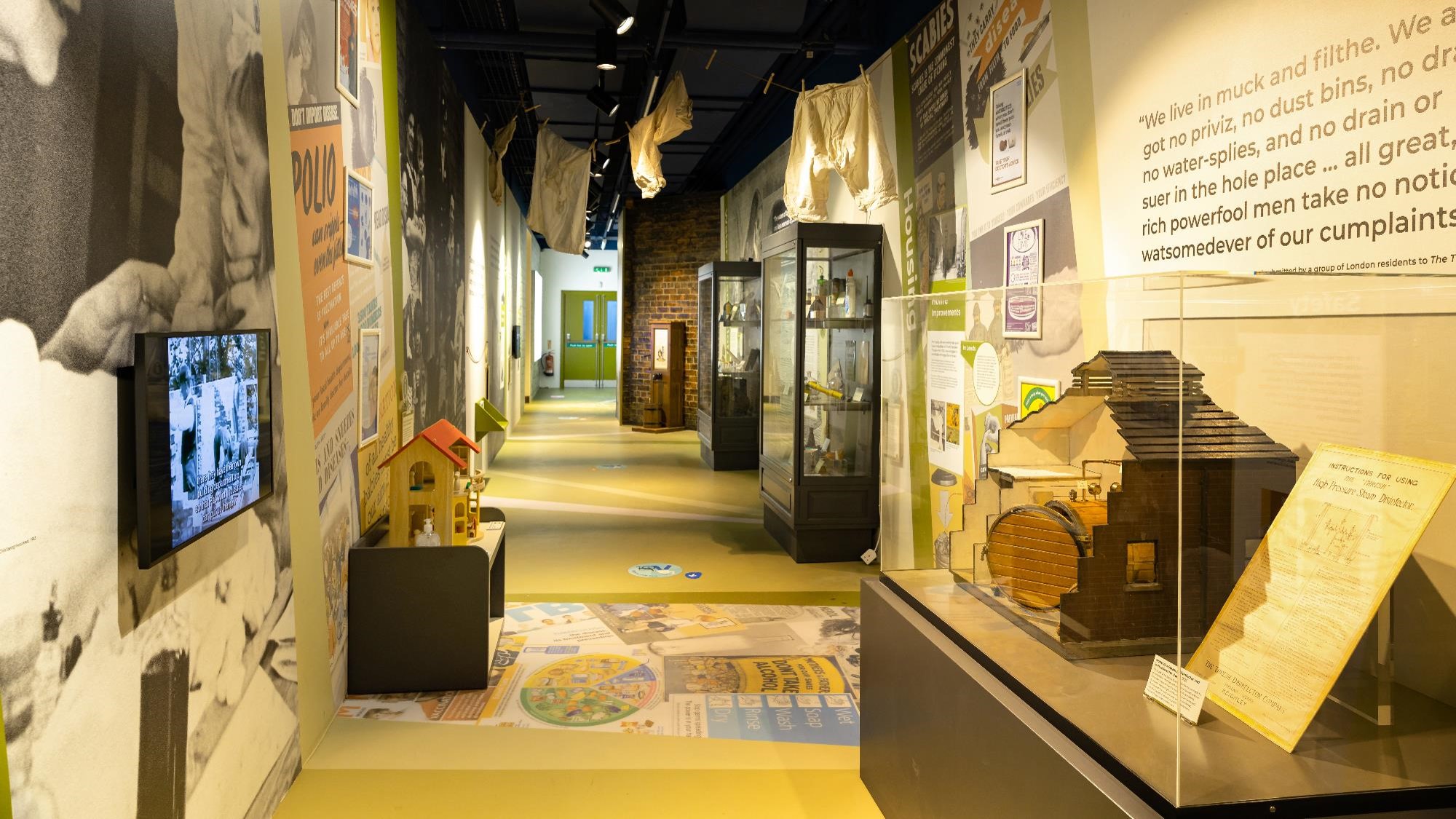 Making Us Well, Outside In
Find out about the Victorians' big public health clear up that sorted out many of the problems in Disease Street, from tackling air pollution to sewers, homes, food, and infectious disease. Not everything is perfect now though – have we finished what they started or have the dangers just become invisible?
Disease Detectives
Be transported into the microscopic world of microbes and learn about some of the ground breaking eureka moments that saved countless lives and transformed the history of medicine forever. In the 20th Century scientific understanding began to give us tools to tackle disease, but will we lose some of what we have learned with the rise of superbugs?
Cutting Edge
The museum's incredible collection of medical innovations illustrates how human ingenuity and imagination has helped shape medicine and all of our lives.
Innovation Station
The engineers and inventors of tomorrow – (and for that matter, of yesterday and today) – can hone their skills and bring their big ideas to life in this hands-on tinkering space
Response to Crisis
The world's emergencies bring terrible human suffering and push the boundaries of medicine and healthcare. Find out how people have responded with bravery, ingenuity, perseverance and determination to prevent, survive and adapt in difficult situations such as war, pandemics and the spread of sexual transmitted diseases.
Normal + Me
Hear from many different perspectives how our own views of what constitutes a normal healthy human have evolved alongside medical technology. Have your own say about some of the hot topics of the day.
Touching Vision
Nick Jordan's remarkable and candid film The Language of Hands telling the story of Britain's first double hand transplant patient is the centrepiece of an installation focusing on the human hand.
Who Cares?
Across our lifetime, there are a wealth of people who help care for us, from acupuncturist to anaesthetist, doula to doctor, midwife to mortuary assistant. Hear from current and retired professionals about their experiences. We all also try to look after ourselves, relying on professional advice, received wisdom… and sometimes dubious commercial quackery!
The Apothecary's Art
A sensory immersion in the making of modern pharmacy – with a chance to mix up your own remedies.